🇬🇧 GG's last post:
These are our last few hours in Argentina. And these are the last lines I write on this trip.
Although big cities are rather stressful for us, we must confess that Buenos Aires (where one third of Argentinians live), is really a pleasant place. Our first hotel was incredibly ugly, but after we had changed it, we had a very good time.(🇬🇧 translate article)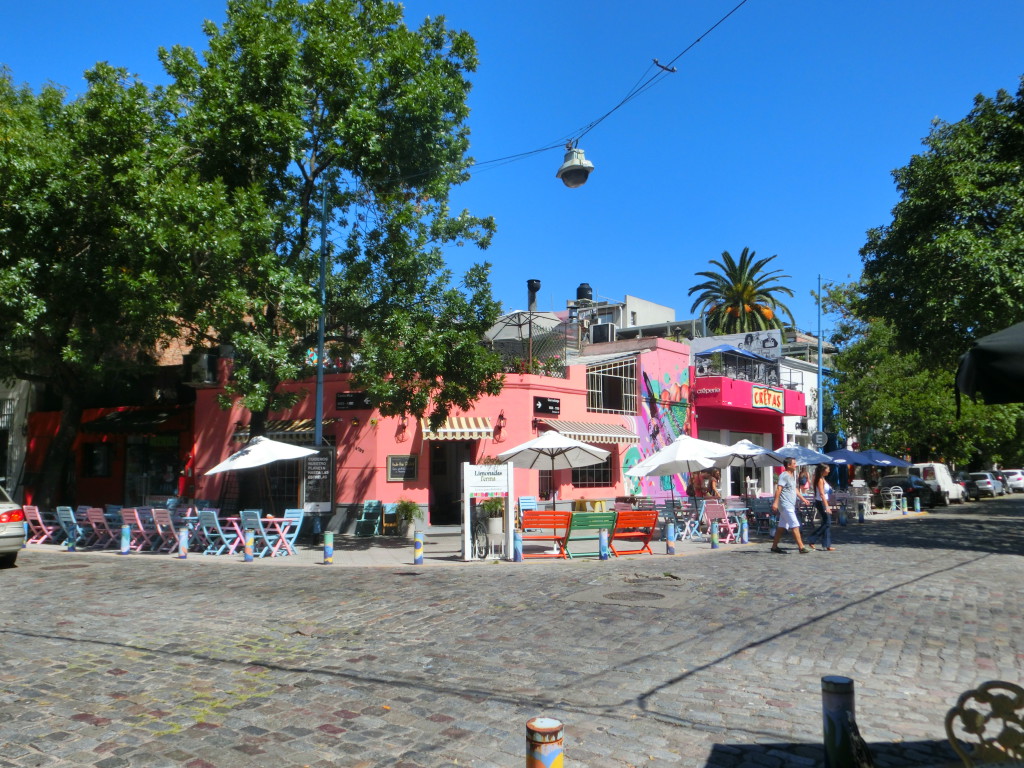 People everywhere were really friendly and helped us to understand, how things work. Or where to go and where not. Or they closed an eye when we didn't dechiffer things, like te bus driver who let us stay in the bus without ticket (they have a – for outsiders – complicated, but cheap ticket system with rechargeable cards you buy in one place and then have to recharge them in another place, every bus ride costs differently, according to the length, and you never know, how much money you still have on the card. When we already had a saldo on tthe card, nobody complained)… Today I lost Joe ( he often disappears to take pictures, a guardian saw this and helped me to call him by whistliing with his fingers after him ;-))
Andrea, a lady from B.A. who we had met in Ushuaia, picked us up from the airport and brought us to the Hotel, what was like a little sightseeing-tour. What we observed is, that people, especially young girls and women, were looking and dressed more individually, looked more interesting then in other parts of the country. This might be a big city phenomena, of course. Short haircuts (all sover thecountries, girls and women had long hair, even the hairdresser had told me that), tattoos. Many good looking men. Cool elder ladies, dressed very modern, still showing a lot of skin, like in Brazil, but more elegant appearances.
One more point, we already realized in Salta and earlier: if you are hungry in the evening and want to go at 7:00 or 8:00 PM to a restaurant, it can happen, that you are the only guest. Or even, that it is not open yet. Dinners usually do not happen before 9:00 PM, and people sit and chat until midnight and longer. Also in Brazil sometimes our friend served dinner at a very late time, after 10:00 PM. 4 weeks were not enough to get my body used to this rhythm, so that sometimes I was starving… And another penomena is that people go very late to bed, but get up early in the morning. When do they sleep?
Both our accommodations were in a very nice, very relaxed neighbourhood (Palermo) with cool Bars and Restaurants, we had great lunches and dinners, and enjoyed strolling around there.
In other districts we visited, the city is very elegant (often compared to Paris).
But you see also the decay, some buildings even reminded us places in East Germany or Poland, where you still see this kind of houses, which in Italy would be called "palazzi", or other buildings, that show the former glory and wealth and now are in a deplorable state.
So also a musee / exhibition place, we visited today, which was in former times an ice palace, a wonderful round fin de siecle building, but the roof seems to be leaking, and there was a provisory construction to avoid it.
The economy is down in Argentina, which was once one of the richest countries of the world, and you can see it in many things. Andrea, who is a very wealthy person, told us, that she is preparing her three children for a life abroad, if they prefer, in case Argentina will not recover. She sent the to a bilingual school (she showed us the building and mentioned, that Maxima, the Queen of the Netherlands, went also to this school. The inflation rate is high and people do not trust the Peso, so everybody tries to accumulate Dollars and/or Euros. So if you pay cash in one of these currencies, you make much better deals then in Peso. And this is one quite important thing, we didn't know before, that means, we didn't bring much cash with us, and so we paid nearly everything in the official exchange rate, which is much worse. Well, next time I travel to South America, I will know about this!
We are a bit bankrupt now, but happy, because our first trip to South America was really beautiful – and we succeeded in marrying in Fireland!!!!
Mission accomplished!
Thanks to our true readers who followed the blog and especially to those who gave us feedback!